Azumabashi
Asahi Art Square
アサヒアートスクエア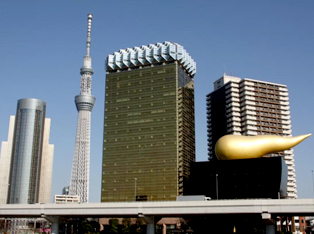 Image credit: Asahi Group Holdings
Art space in which visitors can leisurely enjoy a wide range of arts including music, art, dance, drama, and movies whilst holding a drink in one hand.
The distinctive giant golden monument which shines on the roof was designed by a famous French designer called Philippe Starck. This monument, which depicts an intense flame, is referred to as the flamme d'or (golden flame), and symbolizes the heart of the progressive Asahi Breweries.
Address:

4Fl & 5Fl, Super Dry Hall, 1-23-1 Azumabashi, Sumida-ku, Tokyo 130-0001

Phone number:

090-9118-5171

Business hours:

10:00 – 18:00
Closed on Tuesdays
* Information is updated as of March 2013.