Top > Service > Toei Subways > How to Ride the Toei Subways


In central Tokyo, three different railway systems, namely: subways, Japan Railways (JR) and private railways are available. The subways, with a total of 13 lines, four Toei lines and nine Tokyo Metro lines, are the fastest and easiest way to get around central Tokyo.
Toei lines are operated by the Bureau of Transportation of the Tokyo Metropolitan Government, while Tokyo Metro lines are operated by Tokyo Metro Co., Ltd.
Remembering the name and designated color of the line you wish to ride makes it easier to find your destination on a subway route map.
Most of the subway lines interconnect with JR or private railways.

Every subway station displays the train symbol and a Toei Subway or Tokyo Metro logo at its entrance.
Subway symbol
(Toei Subways and Tokyo Metro)

Toei Subways

Tokyo Metro

The regular fare is calculated according to the minimal distance between the stations you ride.
The fare for children is half of the adult fare.

Please buy a transfer ticket to other railways in advance if you are going to transfer to private railways or Japan Railways.

You can buy your tickets from automatic vending machines installed in every station.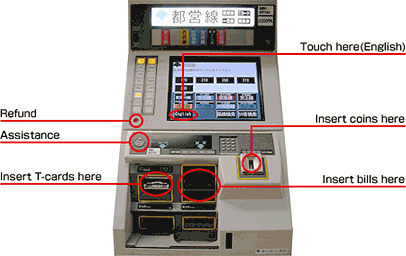 Touch the ' English ' button on the screen for guidance in English.
Put coins and/or bills into the ticket machine.
As fares appear on the screen, touch the button showing the fare to your destination.
You can also buy coupons, Toei One-Day Economy Passes from the ticket machines.
To pass through the automatic gates, insert your ticket.

You can pass through an automatic ticket gate by inserting a ticket purchased from the ticket machine, IC card ticket, or other types of tickets with black reverse sides.