Toei Transportation
Conclusion of Agreement with Koto Ward for Fuel Cell Buses to Supply Power During Disasters
The fuel cell buses that Toei Transportation introduced from fiscal 2016 can be used as portable emergency power supplies at evacuation locations during disasters. As fuel cell bus stations and hydrogen filling stations exist in Koto Ward, it has become the first ward in the Tokyo Metropolitan area to conclude an Agreement for Fuel Cell Buses to Supply Power During Disasters.
As a result, the buses can supply energy to evacuation locations in the ward if a disaster obstructs the regular electricity supply. Whether the buses can participate and demonstrate in Koto Ward disaster drills will be discussed.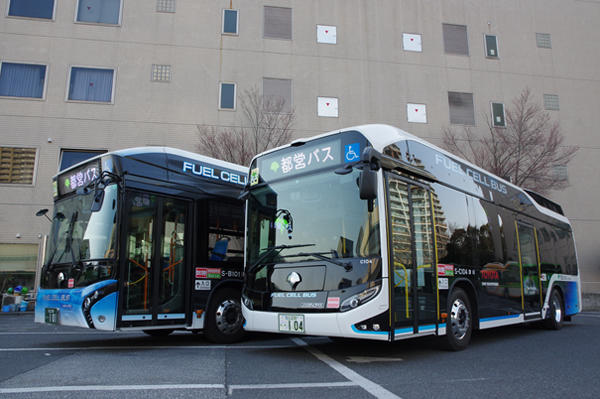 How a fuel cell bus works
The hydrogen fuel component is supplied to the fuel cell via the on-board high-pressure tank where a chemical reaction between the hydrogen and the oxygen in the air produces electricity that powers the motor to make the bus run.
Inquiries
Toei Transportation Customer Center: 03-3816-5700 (From 9:00 to 20:00, seven days a week, year-round)