TOKYO CITY VIEW
Experience the universe close up in the center of Tokyo
Rising 270 m above sea level, only the Sky Deck rooftop observatory can enable visitors to enjoy the Tokyo nightscape and starry skies simultaneously. The ROPPONGI TENMON CLUB holds stargazing parties on the fourth Friday of every month. Anyone can participate, and reservations are not required. The Club also plans to hold a Harvest Moon Viewing in mid-September. Come and experience the universe in rooftop of Roppongi!
[ROPPONGI TENMON CLUB] Harvest Moon Viewing: September 13 (Fri.) 19:00–21:00
Place: Sky Deck
Admission to Harvest Moon Viewing: free (however, there is an admission fee for the Indoor Observatory and the Sky Deck)
*Cancelled in the event of rain or cloudy weather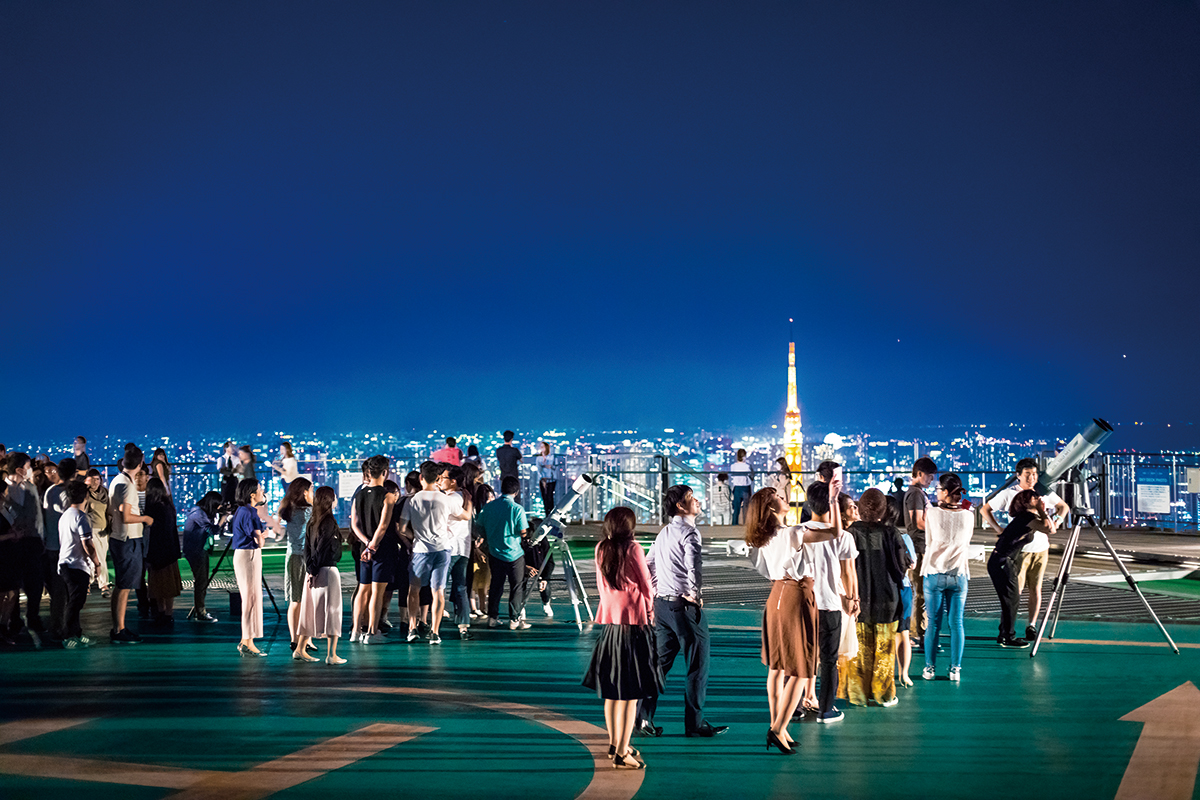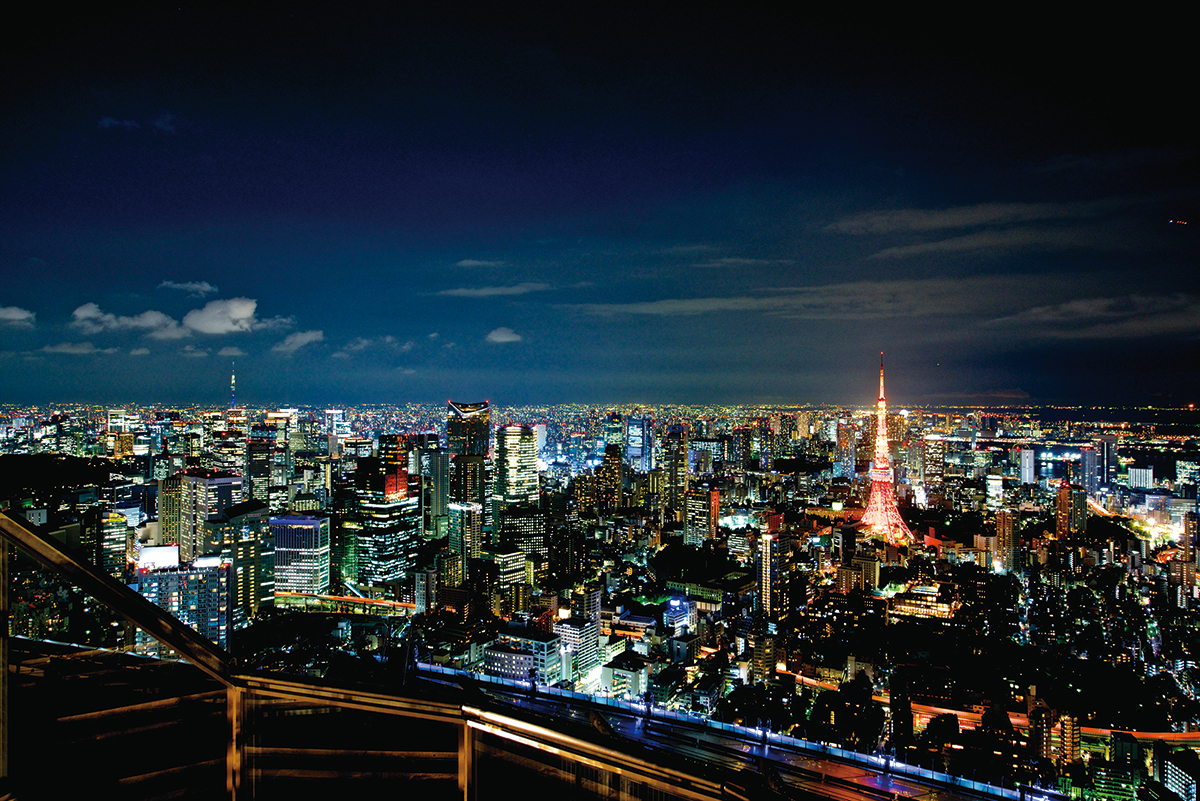 6-min.walk from Roppongi Station on the Toei Oedo Line
9-min.walk from Azabu-juban Station on the Toei Oedo Line
Address 52F/Roof Roppongi Hills Mori Tower, 6-10-1 Roppongi, Minato City
Opening hours Indoor Observatory: [Monday-Thursday and Sunday, public holidays] 10:00-23:00 (Last entry: 22:30)[Friday, Saturday, and the day before a public holiday] 10:00-25:00 (Last entry: 24:00)/ Sky Deck: Monday–Sunday 11:00–20:00 (Last entry: 19:30)
*Sky Deck is closed in the event of stormy weather
Admission Fees Adults 1,800 yen (500 yen)/Seniors (65 years or over) 1,500 yen (500 yen)/High school and university students 1,200 yen (500 yen)/Children aged 4 years to junior high school age 600 yen (300 yen)
*Amount in brackets is the additional admission fee for the Sky Deck
Inquiries TEL. 03-6406-6652 (10:00–20:00)
Tokyo Dome Natural Hot Spring Spa LaQua
Enjoy premium relaxation for your daily tiredness
The Healing Baden area allows you to experience premium relaxation. After refreshing your body and spirit in a low-temperature sauna featuring natural stone and rock salt that can be expected to provide detoxification effects, you can use the spacious relaxation space to unwind at your leisure. Take this time to truly savor this reward to yourself.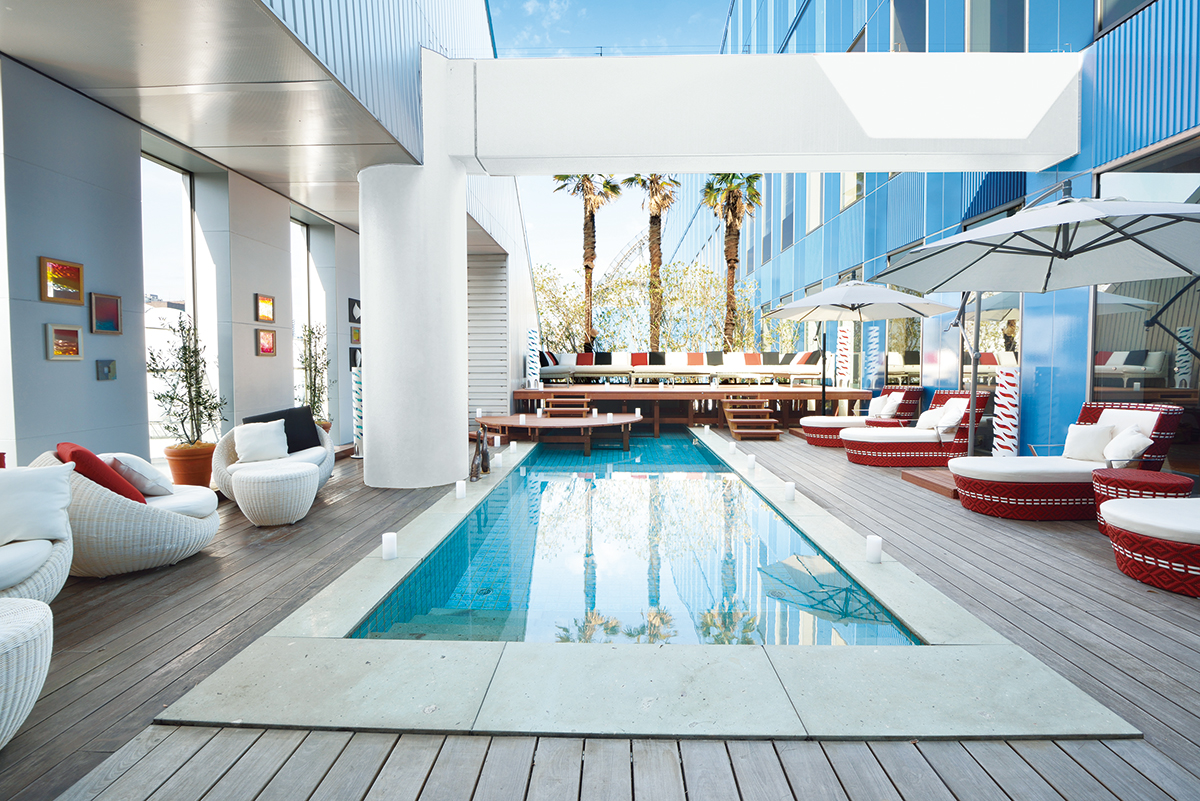 3-min.walk from Suidobashi Station on the Toei Mita Line
2-min.walk from Kasuga Station on the Toei Mita Line and the Toei Oedo Line
Address 9F LaQua5 (Reception is on 6F), Tokyo Dome City, 1-1-1 Kasuga, Bunkyo City
Opening hours 11:00-9: 00 the following morning
Admission Fees Adults (18 years or over) 2,850 yen; Children (6-17 years) 2,052 yen / Healing Baden (facilities may not be used by persons aged under 18 years) 864 yen
*Admission of children aged 5 years or under is not permitted; children aged 6-17 years must be accompanied by an adult (parent/guardian) and may use the facilities until 18:00 (Last entry: 15:00)
Inquiries TEL. 03-3817-4173
Nihonbashi Cruise ®
Have an away-from-the-everyday experience: take a cruise!
These small boat cruises depart from the Nihonbashi Boarding Dock and travel around famous spots in the area and Tokyo Bay. The open design of the boats allows close-up views of the water and bridges. Relieve summer tiredness as you give yourself over to the cruise, feel the wind on your face as you visit famous spots, and experience the changing cityscape of Tokyo.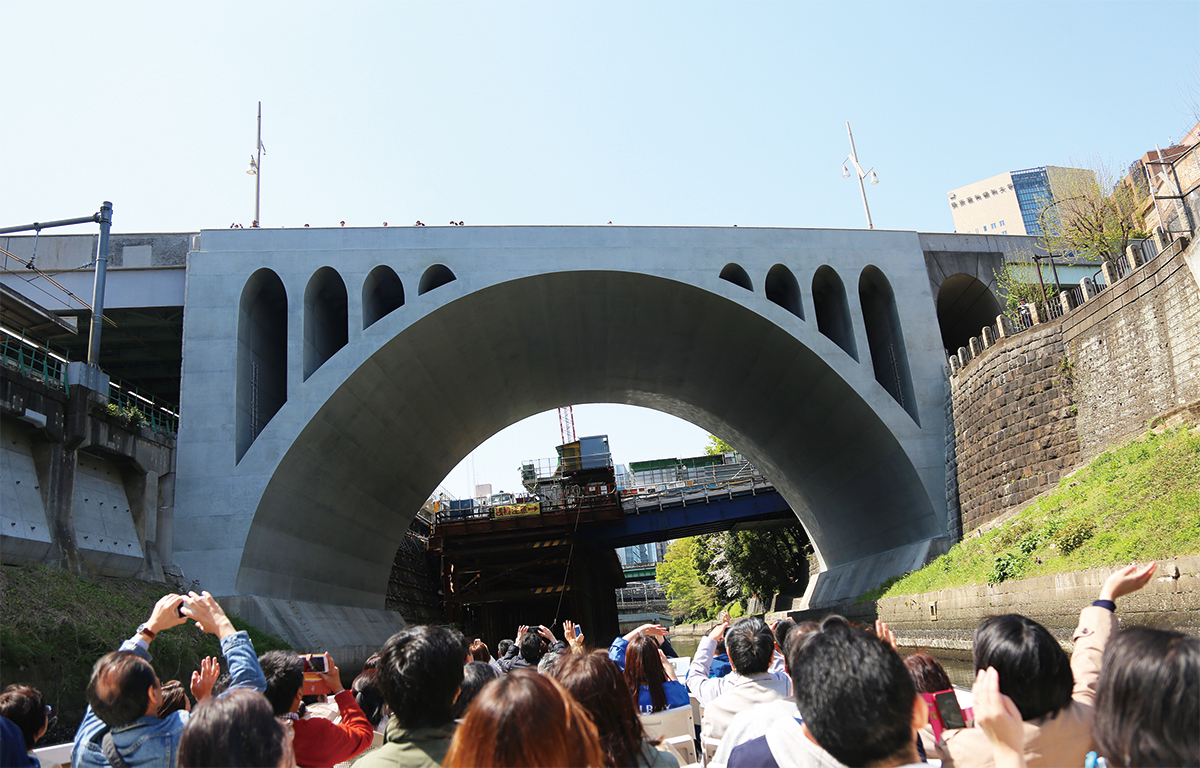 5-min.walk from Nihombashi Station on the Toei Asakusa Line
Address Near 1-9 Nihombashi, Chuo City
Cruise Fees Adults from 1,500 yen-/Children from 800 yen-
*Fees differ for each cruise course.
*Single passengers also accepted.
Cruise Duration 45-100 minutes
Inquiries Tokyo Bay Cruising Co. Ltd. TEL. 03-5679-7311
*Cruise schedules change every month, so please check the Tokyo Bay Cruising Co. Ltd. website (http://ss3.jp/nihonbashi-cruise/).
Saito-yu Nippori Bathhouse
Savor the unbeatable taste of beer after a refreshing bath
Using only ultra-soft water, which is known to have excellent skin-beautifying effects, this traditional public bathhouse is in its 85th year of operation. Especially popular is the Silky Bath featuring highly concentrated carbonated spring water that boosts blood circulation and fine bubbles that pleasantly tickle the skin. After your bath, why not quench your thirst with the unbeatable taste of beer poured by the bathhouse owner (who learned his formidable skills from a beer meister) for the ultimate relaxation experience?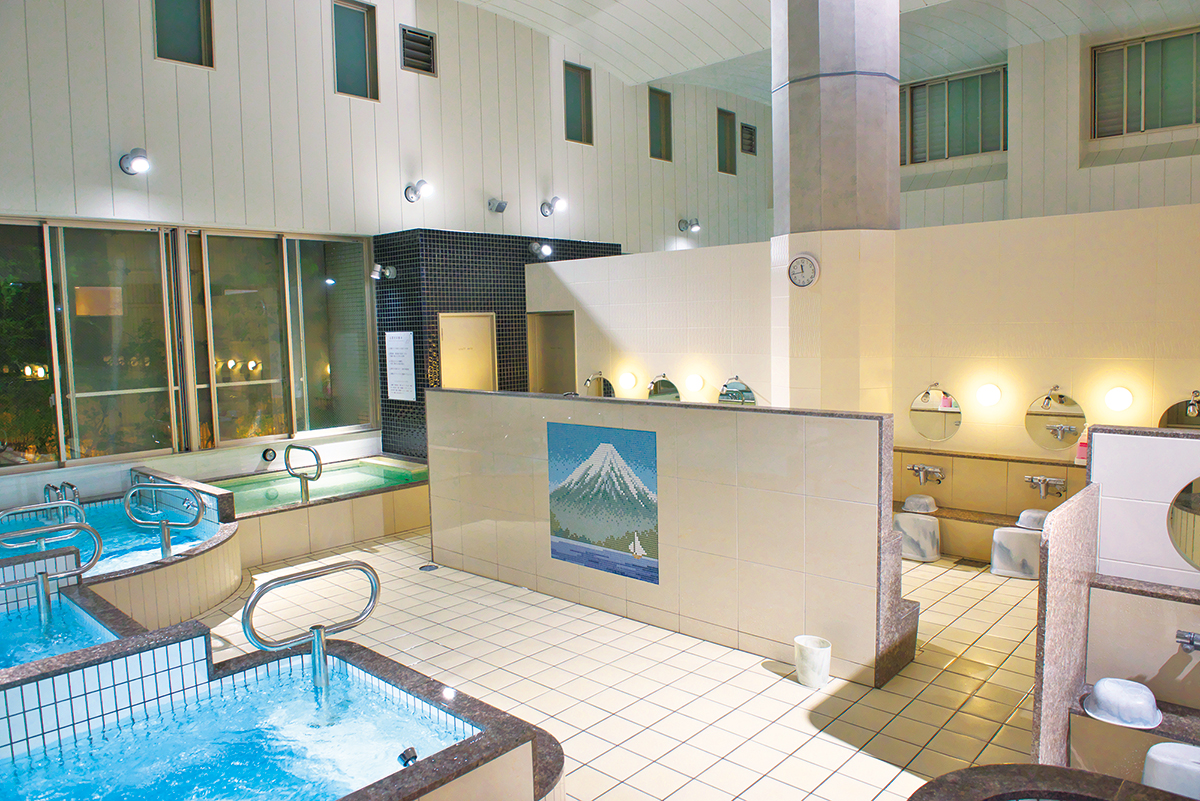 3-min.walk from Nippori Station on the Nippori-toneri Liner
Address 6-59-2 Higashi-Nippori, Arakawa City
Opening hours 14:00–23:30 (Final entry: 23:00) *Closed on Fridays
Bath Fees Adults 460 yen/Junior high school students 300 yen /Elementary school students 180 yen/Pre-school aged children free
Inquiries TEL. 03-3801-4022
Higo-Hosokawa Garden
Enjoy a time of serenity in a traditional Japanese garden
Said to have once been used by the Hosokawa family (formerly the ruling clan of Higo-Kumamoto) as a place of learning, the Shouseikaku Pavilion is now used as a teahouse where you can enjoy matcha green tea with confectionaries from Kumamoto. Savor a soothing cup of tea as you gaze at the beautiful Japanese garden. You can also enjoy the cooling sounds of the garden's shishi-odoshi (water-filled bamboo tubes that clack against a stone when emptied) and suikinkutsu (partially buried earthen jars that make sounds when water drips into them).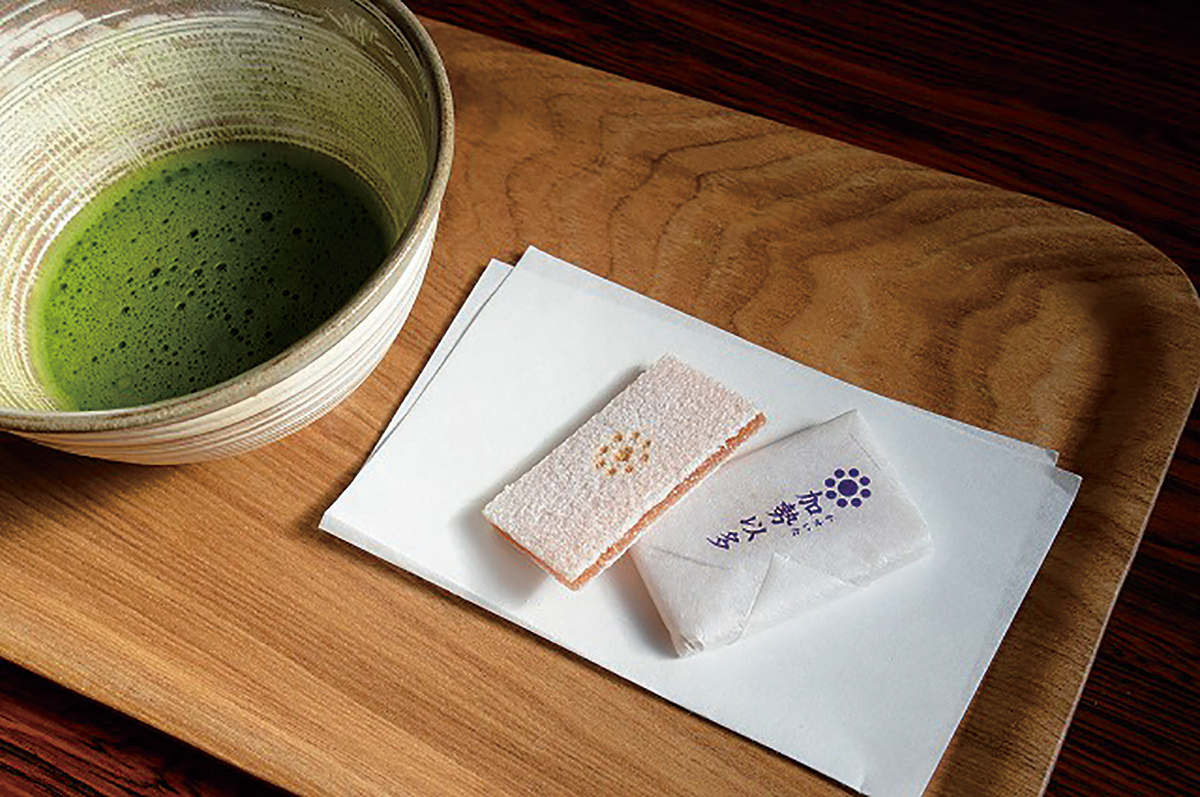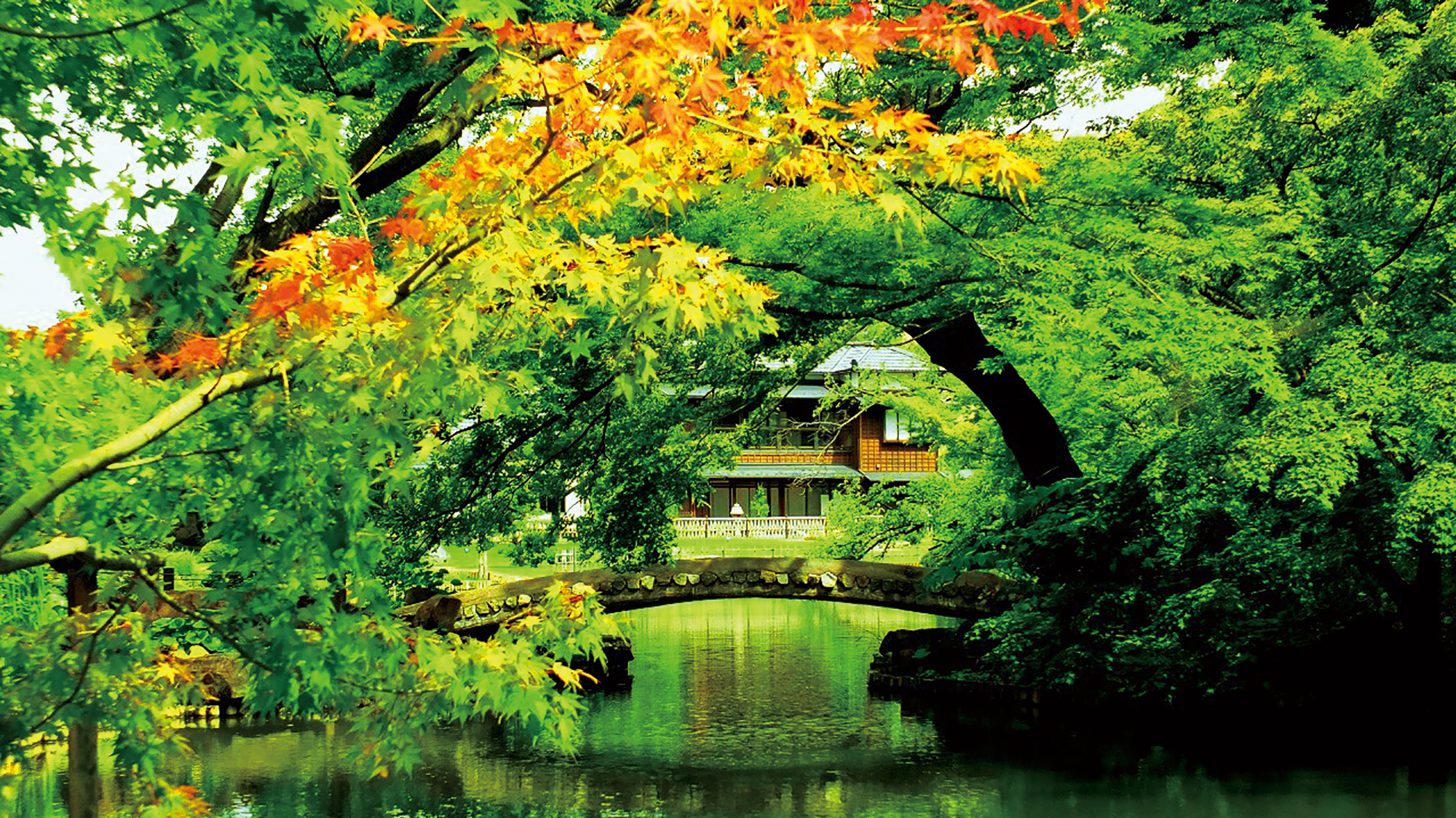 5-min.walk from Waseda Stop on the Tokyo Sakura Tram (Toden Arakawa Line)
Address 1-1-22 Mejirodai Bunkyo City
Opening hours 9: 00-17:00 (Tsubaki tearoom 10:00-16:00)
Admission fee Free [Tea Service (Matcha + Japanese confectionary): 500 yen]
Inquiries TEL. 03-3941-2010
Ichigaya Fish Center
Empty your mind and be soothed
Fixing your eyes on the end of the fishing line dropping below the water's surface, quietly watch the silhouettes of fish swimming languidly beneath, then do battle with a hefty carp. This relaxing oasis makes you forget you are in the center of a metropolis. The Fish Center also has goldfish scooping, SuperBall scooping, that will bring back memories of childhood,* as well as a fish pet shop.
*Some attractions only operate on Sunday and public holidays.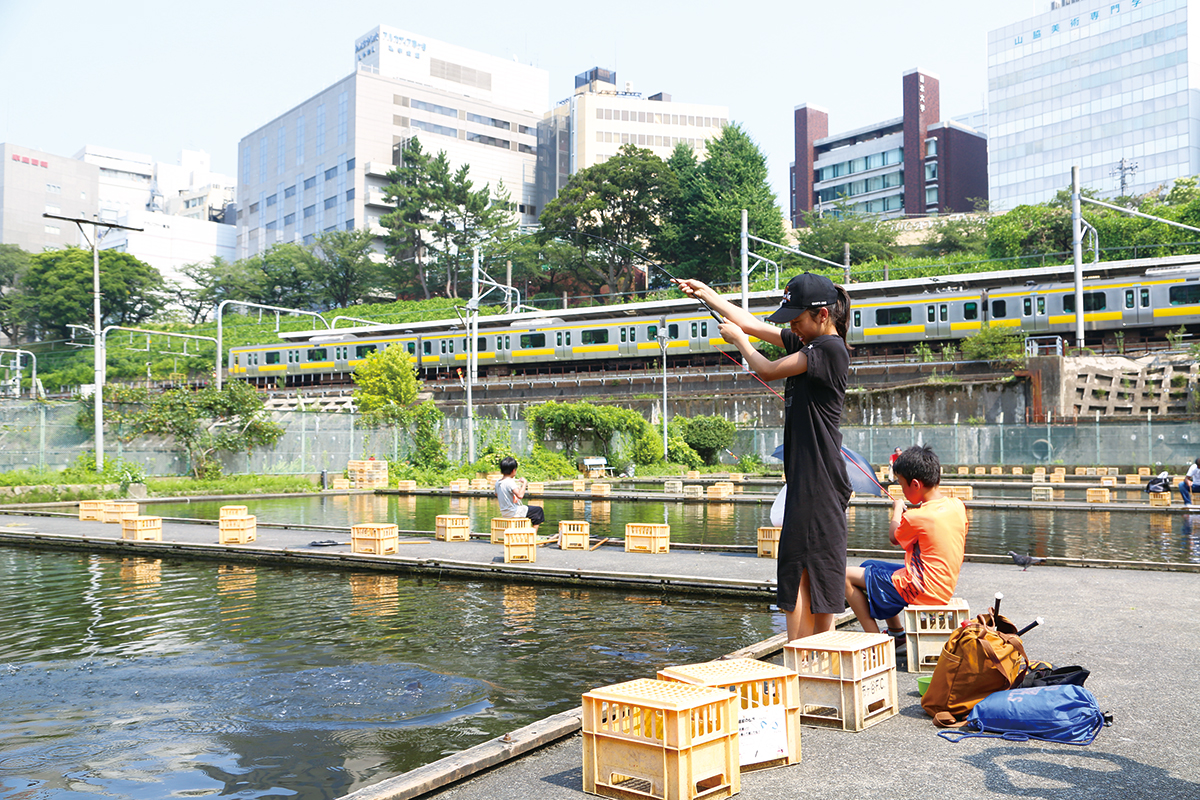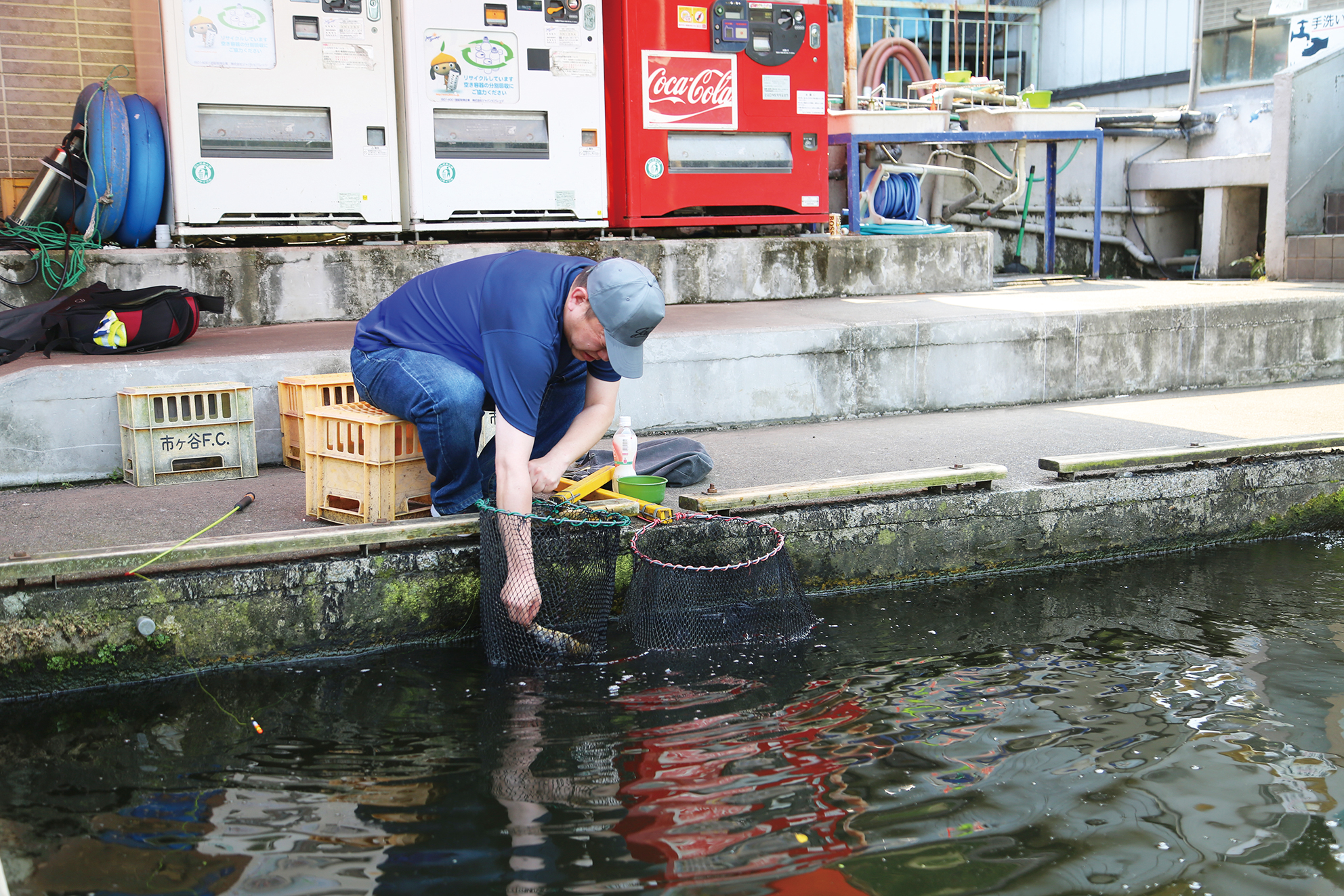 2-min. walk from Ichigaya Station on the Toei Shinjuku Line
Address 1-1 Ichigaya-tamachi, Shinjuku City
Opening hours Fishing: Weekdays 9:30-19:30
Saturdays, Sundays and public holidays 9:00-20:00
*Closing times vary depending on the season.
Admission Fees Carp Fishing 1 hour ticket: Adult 780 yen; Junior high school/High school/University/Technical college students and Seniors 680 yen; Children aged from 3 to elementary school age 450 yen
*Fees vary according to the length of time using the facility
*The fish in the shop may be viewed by anyone, regardless of admission fee
Rental fishing rods: 100 yen, Bait: 100 yen
Inquiries TEL. 03-3260-1325