Toden Omoide Hiroba (Toden Memorial Square)
Toden Omoide Hiroba (Toden Memorial Square)
Toden Omoide Hiroba (Toden Memorial Square) displays two precious old-type trams in a space arranged in the image of a station in the olden days. No admission fee is required. Come and see the historic former trams that supported the golden age of Toden.
Location
Close to Arakawa shakomae Station on the Tokyo Sakura Tram (Toden Arakawa Line)
(Note) There is no parking lot. Please use the Tokyo Sakura Tram (Toden Arakawa Line) to visit.
Date and time of the display
10:00 to 16:00 on Saturdays, Sundays, and national holidays (including substitute national holidays)
Closed on the year-end and New Year holidays (Dec. 29 to Jan. 3)
trams on display
(1)5500 series (Unit No. 5501)
Manufactured in 1954, using the latest American technology at that time. Called a PCC Car, this tram features a unique streamlined car and high performance, including low noise and high acceleration. This American style tram belonged to the Mita Depot and was operated on Route 1 (Shinagawa-ekimae Station - Ueno-ekimae Station).
(2)Old 7500 series (Unit No. 7504)
Manufactured in 1962. This tram features two big lights, which are rarely found on other Toei trams. After belonging to the Aoyama Depot, the 7504 was moved to the Arakawa Depot in accordance with the decrease in routes. For several years before being retired from the track, the 7504 was operated mainly to transport students for the morning rush hour, and was called "Gakuen-go (School Tram)" by passengers.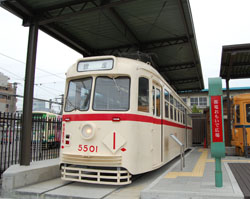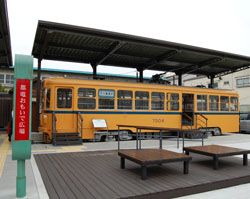 In-car displays
In the tram on display (PCC Car), there are a Memorial Diorama created with the theme of the worldview in the 1950s to 1960s when trams flourished, and a Memorial Graffiti Box, in which various items related to the Toden are exhibited.

Other
A Daredemo Toilet (multipurpose toilet) equipped with a baby seat and ostomate facilities has been installed in the square.