On this Course,
Enjoy Tokyo's Photogenic & Night Spots
to Share on SNS!
In addition to the historical and traditional sites that decorate the capital, the new spots that always pop up in Tokyo offer travelers many ways to enjoy the city. This corner introduces 5 attractive Tokyo tour routes carefully chosen by the fully knowledgable Toei Transportation, using the Toei Subway, Toei Bus, and the Tokyo Sakura Tram (Toden Arakawa Line). This article suggests a course going around night spots and photogenic tourist sites that will have you reaching for your camera!
Toei Subway Shinjuku Line Iwamotocho Sta.
or Akihabara Station on JR or other lines.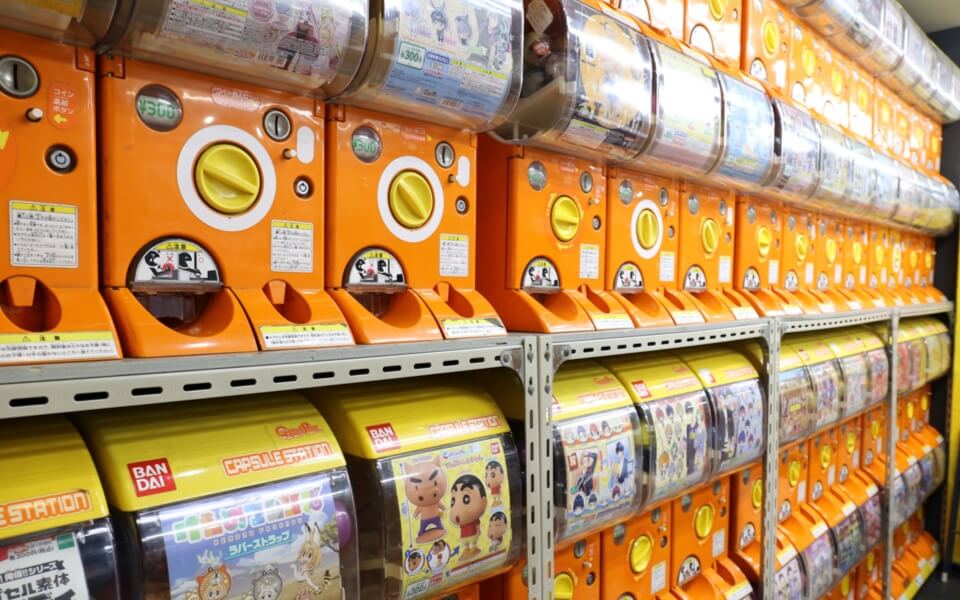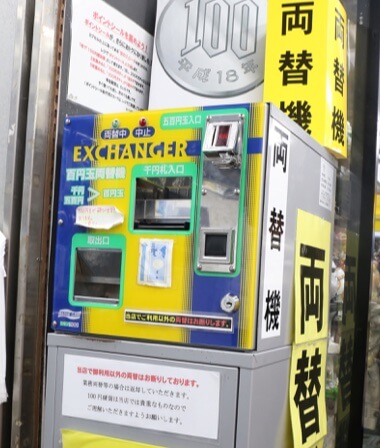 This rare store specializes in Gachapon machines, named after "gacha-gacha", the Japanese sound for turning a lever. Put a coin in the slot, turn the lever, and out pops a capsule holding a small toy. Not knowing what you'll get, is part of the fun! About 480 different Gachapon machines are lined up in an orderly fashion inside this shop. They feature popular anime characters as well as toys that can be attached to computer screens or cups. Try them out for as little as ¥200-300 each time! Credit cards are not accepted here, so be sure to bring your Japanese yen. It's OK if you only have bills on hand, as this store has a change machine!
1
Akihabara Gachapon Hall
Gee Store Akiba, 3-15-5 Soto-Kanda, Chiyoda-ku, Tokyo
11:00 am-8:00 pm
(Fri. & Sat. until 10:00 pm, Sun. & Hols. until 7:00 pm)
Open every day (except New Year's Day)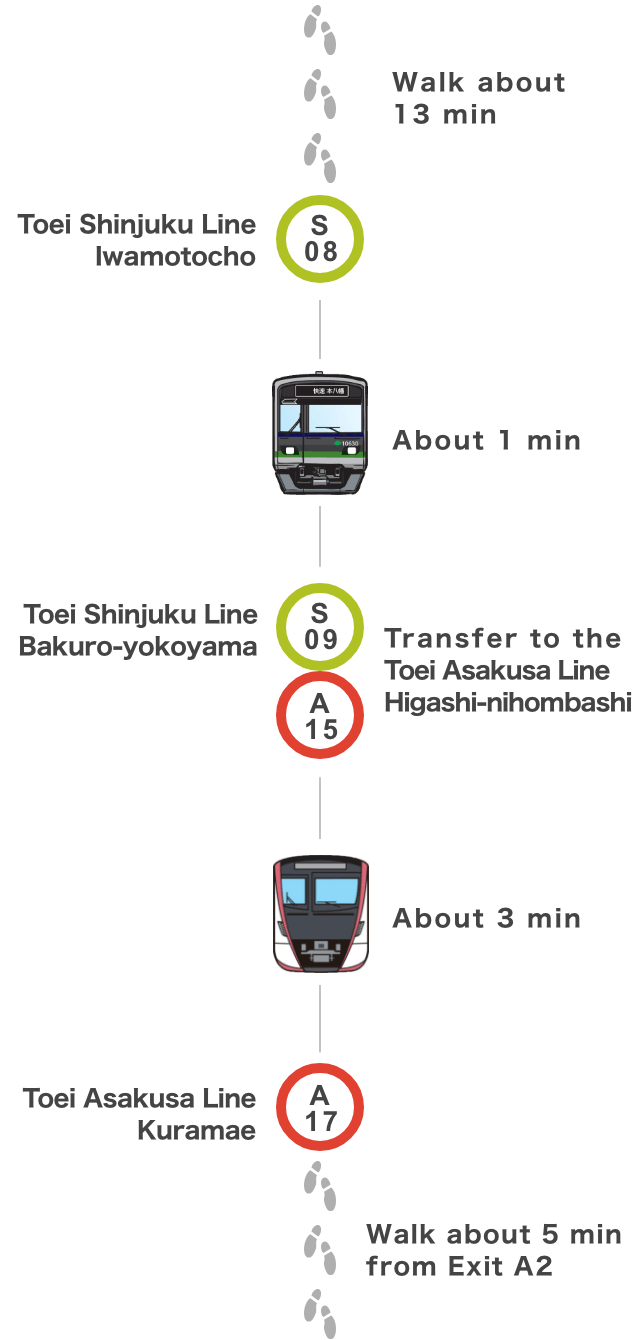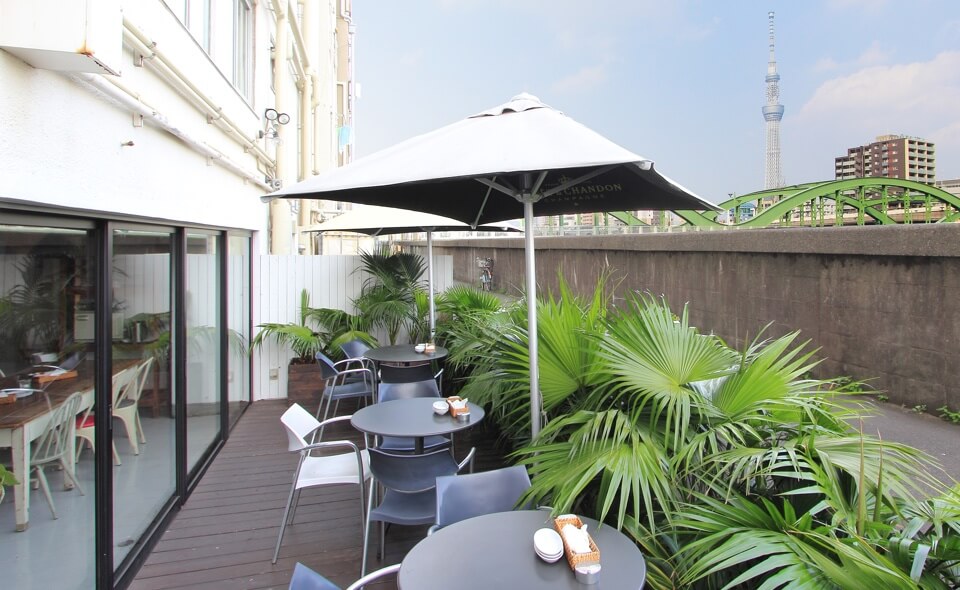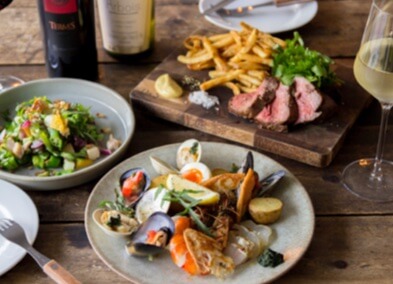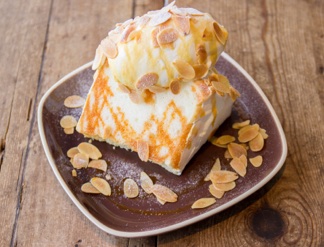 Riverside Cafe Cielo y Rio
Located on a bank of the Sumida River, this open-air cafe-restaurant features large windows facing the river, from which diners can enjoy views of the Tokyo SKYTREE. Smack your lips on pasta and authentic bistro fare full of onions, tomatoes and beef sourced from Awaji Island in Hyogo Prefecture. After your meal, save some room for generous portions of their homemade desserts! The soft and moist texture of their vanilla caramel angel food cake is delectable! Once you take a bite, you can't stop eating it!
2
Riverside Cafe Cielo y Rio
2-15-5 Kuramae, Taito-ku, Tokyo
Lunch 11:30 am-3:00 pm (L.O.); Dinner 5:30 pm-10:00 pm (L.O.); Cafe 11:30 am-11:30 pm (L.O.) (Sats. Suns. & Hols.: Cafe and Lunch from 11:00 am.)
American Express、JCB、
Mastercard、Visa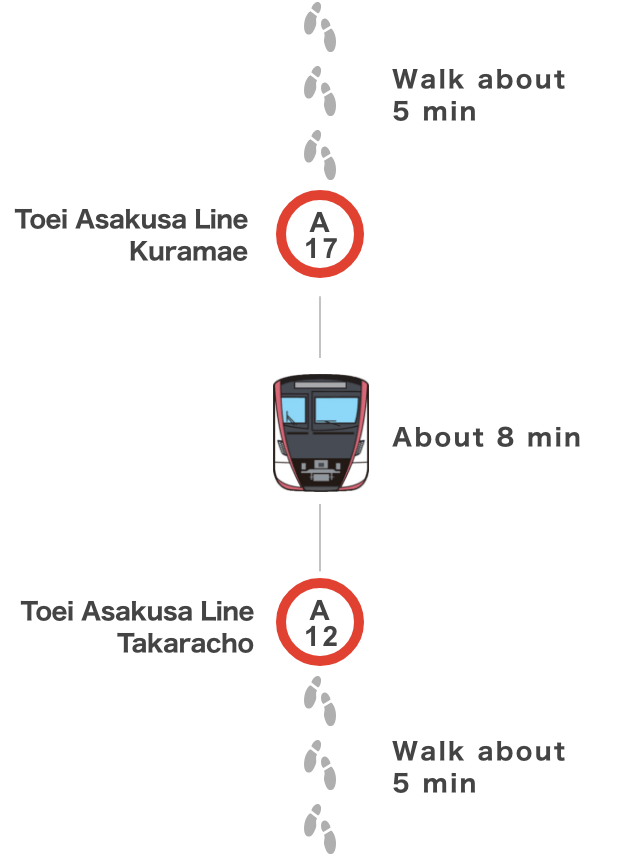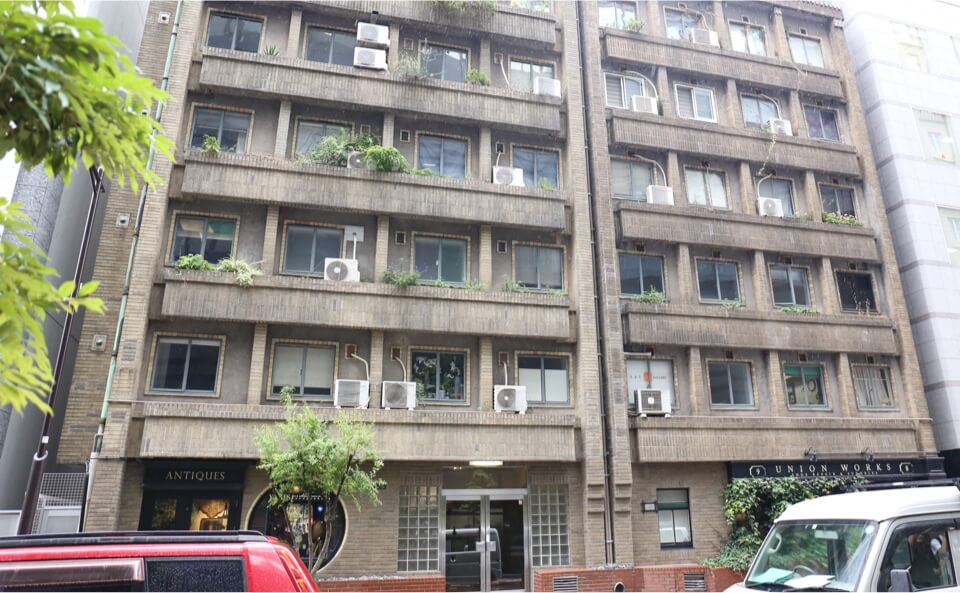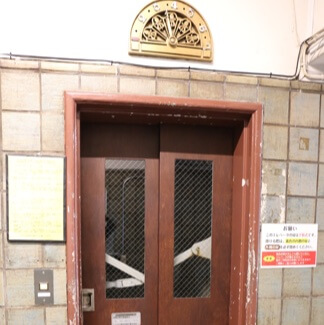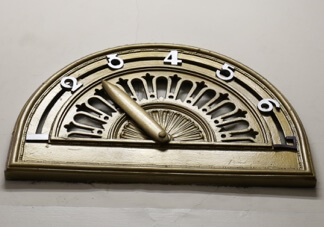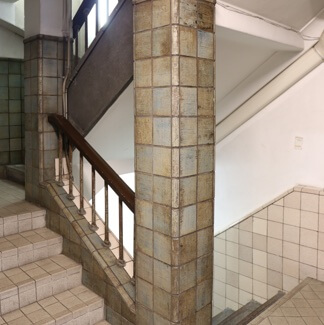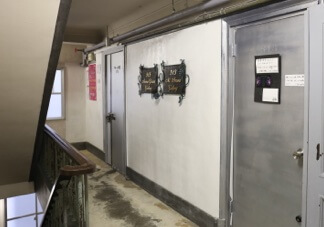 Ginza is where boutiques selling world-famous luxury brands and well-established department stores line the streets. Among these high-end shops is an apartment building dating from the early Showa Era (1926-1989) which has left its name in the field of architecture. Called the Okuno Building, it features a tiled exterior and a retro interior. It also boasts a hand-held elevator, the first to be used in a private building, which is still in use today. If the door isn't firmly closed, it won't move, so don't rush when you use this elevator. It was surprising to see that the retro sign displaying the number of stories still works! This building is currently being used by artists as a studio and gallery.
* To avoid causing trouble to others, please refrain from speaking in loud voices or making a lot of noise in this building.
1-9-8 Ginza, Chuo-ku, Tokyo
Depend on the facility inside the building
Depend on the facility inside the building
Depend on the facility inside the building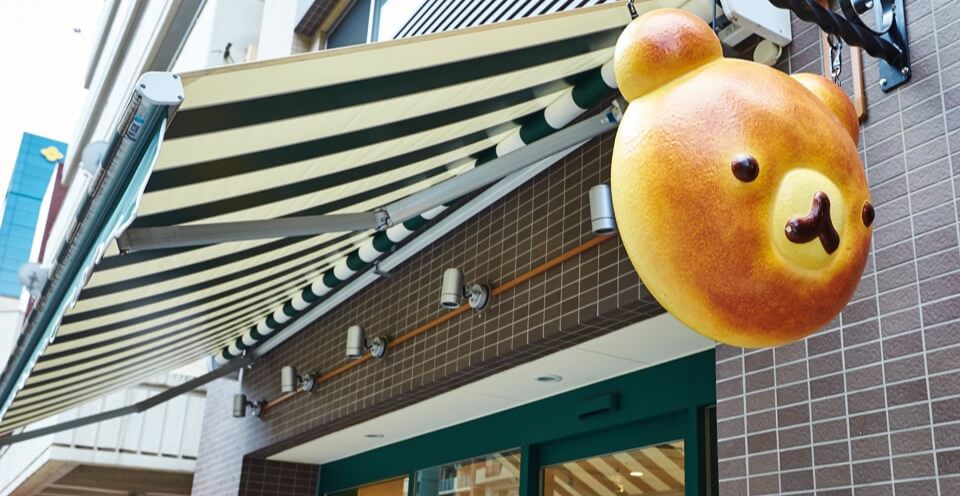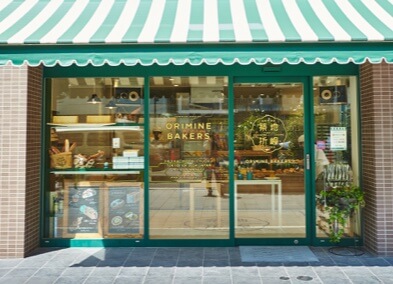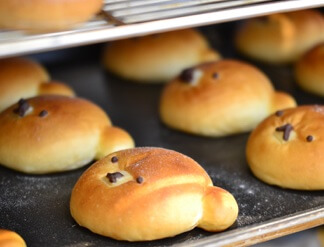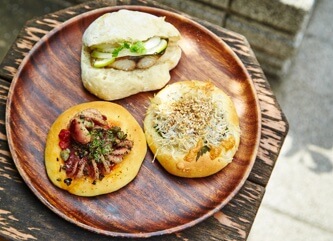 Orimine Bakers
Kachidoki Shop
By offering bread that's safe to eat, this bakery aims to give their customers peace of mind. They do this by eschewing the use of yeast and emulsifiers. Inside the bright shop, a variety of bread made with 100% domestic wheat is displayed. From sliced bread and hard bread to Danishes and sandwiches, there are many kinds here. The landmark "bear bread" that hangs from the shop entrance is their signature item. Filled with delicious homemade custard cream, it not only looks cute, but it tastes great, too! Since there is no seating inside the bakery, going to the park in front of Kachidoki Station is recommended if you want to eat the bread right away. Please be aware that this shop closes as soon as everything is sold out.
4
Orimine Bakers
Kachidoki Shop
3-6-3 Kachidoki, Chuo-ku, Tokyo
8:00 am - 8:00 pm (Closed when sold out)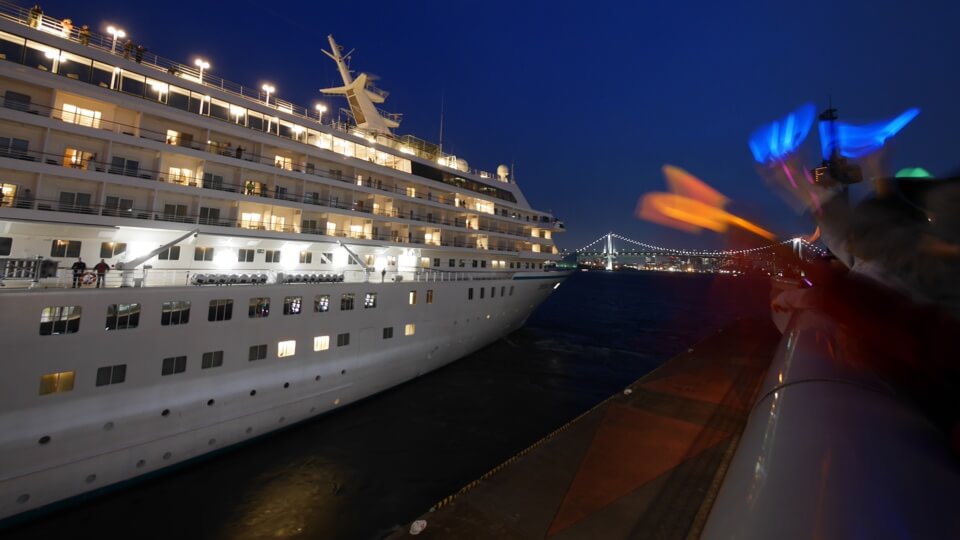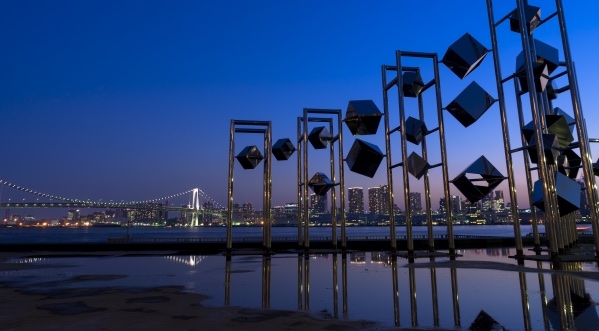 Here at Tokyo's gateway to the sea, gorgeous cruise ships make their port of call. Known for its beautiful night view, this wharf is top-ranked by a travel website as a popular place to take a date. Catching a glimpse of the cruise ships sliding into port is worth the trip here. The observation deck on the 6th floor of the terminal lets you can gaze upon the night views of Rainbow Bridge and Tokyo Bay. In the foreground of the Rainbow Bridge, shiny cube sculptures are designed to spin in the wind.
* Some ships don't stop at this port.
* Please be aware that the wharf sometimes closes at 5:00 pm.
03-3536-8651
(Harumi Passenger Ship Terminal)
Harumi Passenger Ship Terminal, 5-7-1 Harumi, Chuo-ku, Tokyo
9:00 am - 5:00 pm (Sats., Suns. & Hols. Until 8:00 pm),
depending upon the time of year.
* The open square with sculptures may be entered until 11:00 pm.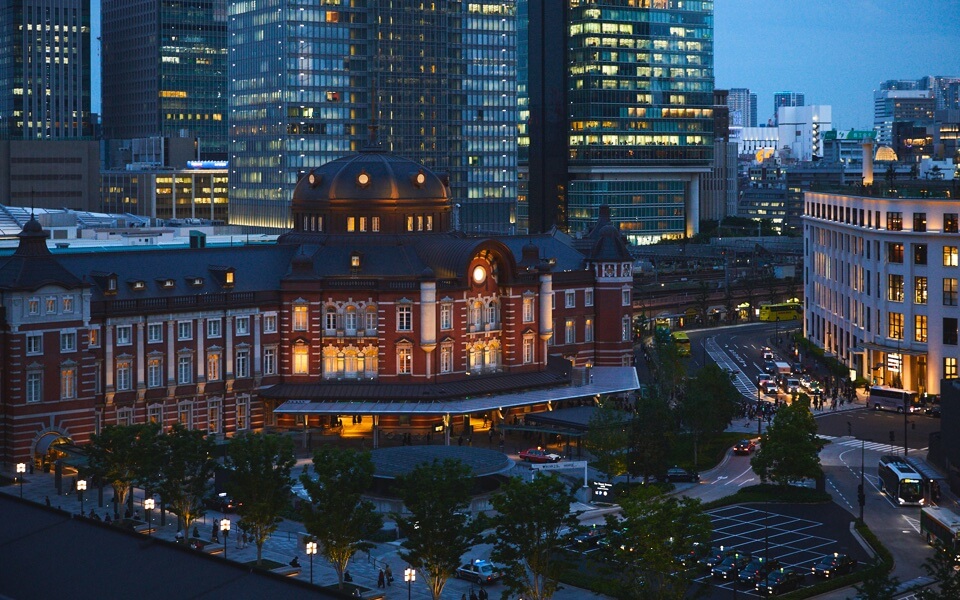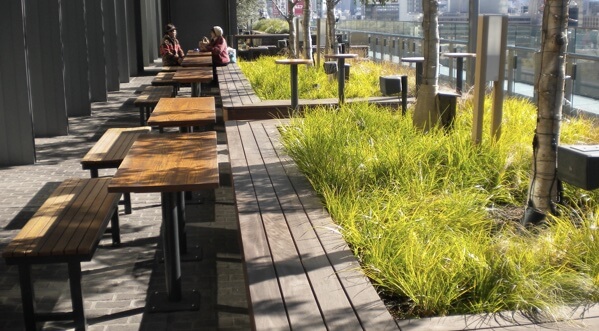 Shin-Marunouchi Building
Marunouchi HOUSE
On the 7th floor of the Shin-Marunouchi Building, located in front of Tokyo Station, there is a restaurant floor. Some of the 9 unique restaurants and bars gathered here are even open until 4:00 the next morning. The terrace surrounding this building on three sides deserves special mention.
While it's possible to enjoy gazing at the view by just sitting on the bench, you can also bring the food and drink purchased here at Marunouchi HOUSE on the terrace. Why not savor your meal and the scenery at the same time? The beautiful, sweeping night view of Tokyo Station's illuminated Marunouchi station building is sure to raise your spirits!
6
Shin-Marunouchi Building
Marunouchi HOUSE
03-5218-5100
(Marunouchi Call Center)
1-5-1 Marunouchi, Chiyoda-ku, Tokyo
11:00 am - 4:00 am the next day
(Suns., Hols., Last day of consecutive holidays: closes at 11:00 pm)

Toei Subway Mita Line Otemachi Sta.
or take JR or other lines at Tokyo Station.