[ Measures at Toei Subway, Toden Arakawa Line and Nippori-Toneri Liner ]
Periodic disinfection of hanging straps, handrails, etc.
Periodic disinfection of ticket vending machines, station equipment, escalators, stair rails, etc. in stations
Ventilation by opening train windows and through air conditioning
Installation of plastic curtains (at station turnstiles, etc.)
Placement of alcohol disinfectant (in station manager's offices, etc.)
Discontinuation of use of hand dryers in station bathrooms
Broadcasting of requests to customers for cooperation in preventing infections
Employees are encouraged to wear masks, wash their hands and gargle to prevent infections among them
In addition, we are carrying out hand disinfection as needed other than when attending to visitors, cleaning and disinfecting common areas such as offices and staff resting rooms, and installing acrylic panels in offices.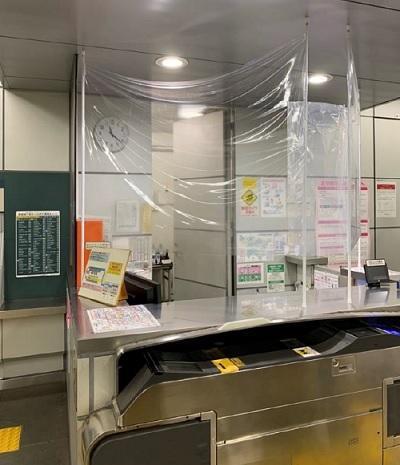 Installation of plastic curtains (at station turnstiles)
[ Measures at Toei Bus ]
Periodic disinfection of hanging straps, handrails, etc.
Ventilation by opening windows and through air conditioning, and by opening doors at terminals
Installation of plastic curtains (driver's seats)
Use of some seats is suspended
Placement of alcohol disinfectant (on chartered sightseeing buses and at sales office windows)
Broadcasting of requests to customers for cooperation in preventing infections
Employees are encouraged to wear masks, wash their hands and gargle to prevent infections among them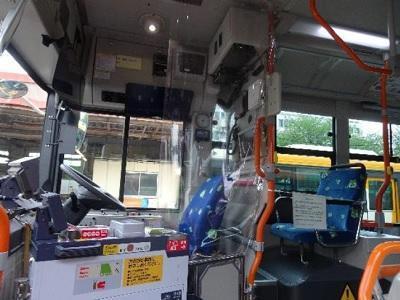 Installation of plastic curtains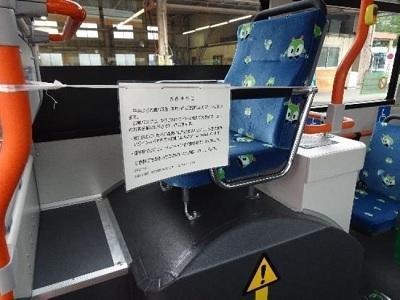 Some seats are not available
Request
Please wear a mask and keep conversations to a minimum when using Toei Transportation.
We also ask for your cooperation with telecommuting and staggered working hours to reduce congestion on trains and buses.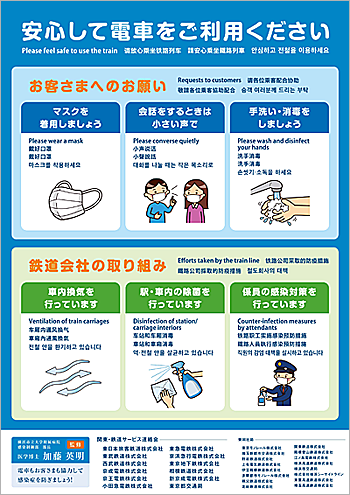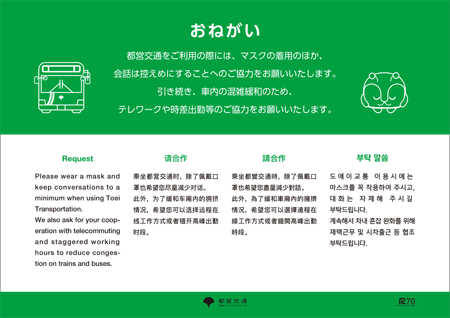 Please feel safe to use the train