Bureau of Transportation, Tokyo Metropolitan Government
Sales of the TOKYO STARTER KIT special subway/bus ticket that includes travelers insurance for foreign tourists to start
The Bureau of Transportation (Tokyo Metropolitan Government) will commence sales of the TOKYO STARTER KIT. The new concept for the special ticket package aims to help foreign tourists enjoy a convenient, safe stay in Tokyo with even greater peace of mind by resolving issues associated with becoming injured or sick during their trip. These issues include not knowing which hospital to go to, not being able to communicate in a foreign language at the hospital, and the high cost of treatment the traveler is responsible for.
In addition, this package is offered in cooperation with Tokyo Marine & Nichido Fire Insurance Co., Ltd., which has concluded a wide collaboration agreement(*) with the Tokyo Metropolitan Government.
(*) "Wide collaboration agreement"
This is an agreement of comprehensive and cross-sectional collaboration and coordination in several policy areas concluded between the Tokyo Metropolitan Government and companies, etc. with the aim of promoting an effective and efficient Tokyo Metropolis administration from the viewpoint of Tokyo citizens.
1. Overview
The kit includes the Tokyo Subway Ticket, which allows unlimited rides on the Toei Subway and Tokyo Metro lines for 72 hours, and the Toei Bus One-day Pass, as well as special travel insurance for foreign tourists.
By downloading a special mobile phone app, purchasers can also receive assistance including introduction to medical care providers and support in the event their passport is lost.
The kit bundles a variety of services, including tourist information and coupons, as well as multilingual notifications when a disaster occurs.
2. Commencement of sales
Monday, July 22, 2019
3. Price
¥3,000 (including tax) *A separate price has not been set for children.
4. Sales locations and hours
Ueno-Okachimachi Tourist Information Center (8:00 a.m. to 8:00 p.m.)
Stationmaster's Offices at: Tochomae Station (Tokyo Metropolitan Government), Shinjuku-Nishiguchi and Daimon stations (Toei Oedo Line), and Shimbashi Station (Toei Asakusa Line) from the time of the first train to 10:00 p.m.
5. Eligibility
Foreign touristsThe purchaser's passport will be used to confirm their nationality. At the time of purchase, the passport will also be scanned by a special terminal to register the purchaser as the insured party.
TOKYO STARTER KIT contents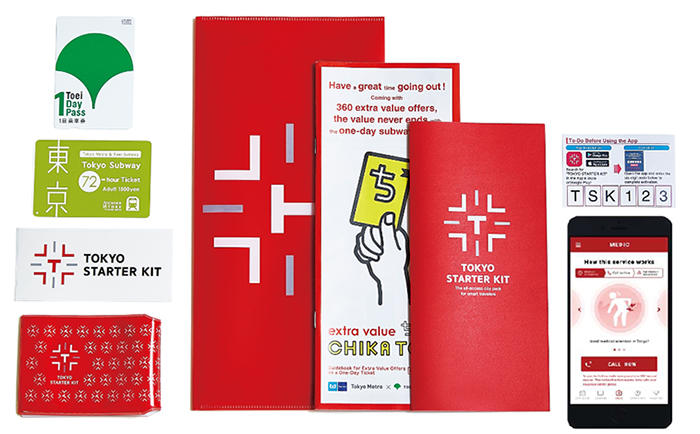 (1) Tickets
[1] Tokyo Subway 72-hour Ticket
The ticket allows unlimited travel on all Tokyo Metro and Toei Subway Lines for 72 hours from the first use.
[2] Toei Bus One-day Pass
The pass allows one day of unlimited travel on Toei Bus lines within the 23 Special Wards of Tokyo (excludes Koto Route 01).
*Use of late-night buses requires an additional fee of \210 to be paid in cash (IC \206).
The one-day pass can be used from 12 midnight to 4:00 a.m. the day following activation of the pass.
[3] Chikatoku
A convenient service that enables users to receive benefits such as discounts or presents at participating facilities and businesses just by presenting a Tokyo Subway Ticket or Toei Bus One-day Pass.
(2) Support services for foreign tourists
Assistance with a variety of problems will be available to the purchaser for 72 hours starting at 12 midnight the day following purchase of the TOKYO STARTER KIT.
[1] Travel insurance
Coverage, etc.
Insurance details
Coverage
Cost of medical treatment for injuries or illnesses that occur in Japan, cost of transport back to the covered party's country of origin (when applicable)
Insurance amount
5 million yen
Coverage period
Starts at 12 midnight the day following the day of enrollment (purchase of the TOKYO STARTER KIT) for a maximum of 72 hours or up to departure from Japan (if departure occurs prior to 72 hours having passed)
Cashless medical service
The service will introduce the insured to a medical institution according to the party's symptoms (illness or injury) where treatment can be received without any out-of-pocket cost to the user.
Telephone interpretation service
The party covered by the policy can use a telephone interpretation service (English, Chinese, Korean) when receiving treatment at a medical institution.
*In addition, a telephone interpretation service, which provides assistance in 43 languages, can be used at locations other than medical institutions, such as restaurant and hotels.
Travel services
A wide range of services are offered, including assistance when the covered party loses their passport or credit card, reservations for transportation to/from the airport and hotel, and help in contacting family members abroad in an emergency.
[2] Provision of information when a disaster occurs
Through the TOKYO STARTER KIT special mobile phone application (information provided in English, Chinese, Korean), which can be downloaded at the time of purchase, disaster-related information will be provided according to the purchaser's location. This will also make it possible to obtain information on the nearest evacuation center and how to get there.
How to purchase
1. Visit a sales desk
The kit can be purchased at major Toei Subway stations and other locations. (Sales are made in person)
2. Passport verification
The purchaser will need to present their passport to the agent at the time of purchase.
3. Registration of customer information
Staff will use a special terminal to scan the bar code on the purchaser's passport to register them as the insured party.
4. Customer receives kit contents
Once scanning of the customer's passport is complete, the TOKYO STARTER KIT is presented to the customer.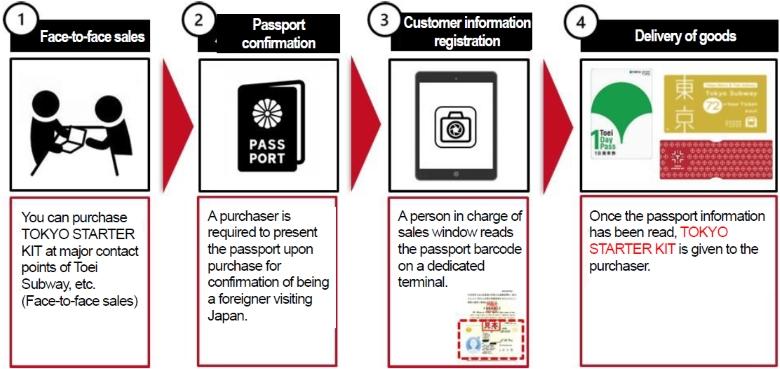 ---
Inquiries
Toei Transportation Customer Center,
Phone: 03-3816-5711 (9:00 to 20:00, Open all year round)