How to use the bus with a stroller
How to use the bus with a stroller
On metropolitan buses, children are permitted to remain seated in their strollers if the strollers are secured with auxiliary belts.
*There may be times when passengers are asked to fold their strollers before boarding the bus (please refer to "Points to note when boarding").
Boarding procedure
1.As passengers board through the forward door (the rear door in the Tama area), please wait at the boarding area of the bus stop.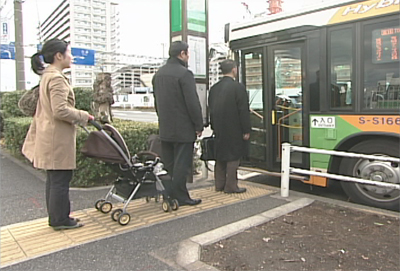 2.Once on board, park the stroller facing the back of the bus, lock the wheels, and fasten the stroller belt.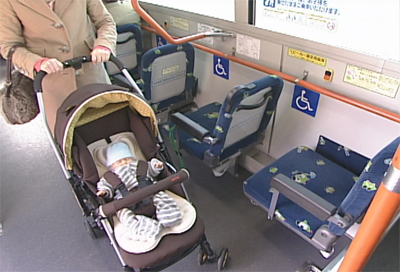 3.Secure the stroller with an auxiliary belt.
*Auxiliary belts are attached to the seats adjacent to the wheelchair space. (Two seats)
*Please notify a staff member if you do not know how to use the auxiliary belt.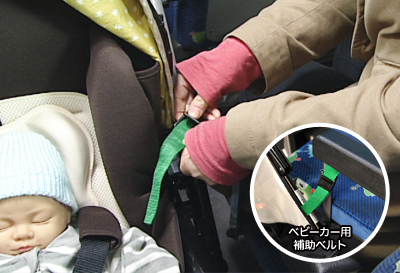 4. The belts to secure strollers are only supplementary. In case that the bus may be forced to stop abruptly, please hold on firmly to your stroller onboard.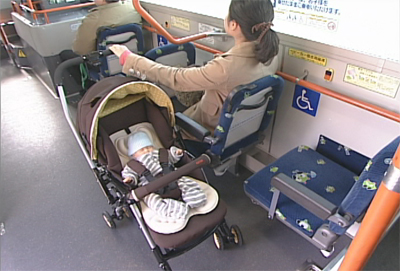 Points to note when boarding
Passengers will be asked to fold their strollers in the following situations.

When the bus is crowded during times such as morning and evening rush hour.
When there are already two unfolded strollers on the bus (the maximum number of strollers carrying children on the bus at any one time is two).
When a passenger in a wheelchair wishes to board the bus (priority is given to passengers in wheelchairs, even when a stroller has already been secured with belts).
When strollers are being used to hold luggage, etc.

Passengers may be asked not to board the bus if they are using strollers that obstruct the passages on the bus or cannot be turned around while onboard (such as when large or two-person strollers cannot be folded up).